ACKREDITERING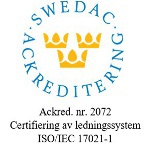 Information

Ackreditering är ett formellt myndighetserkännande av kompetens att utföra tredjepartscertifieringar mot internationella standarder. I AgR Certifications fall ISO 9001, ISO 14001 och ISO 45001.

A.g.R
. Certification är för närvarande endast verksamma i Sverige.


Disclaimer


We do not have any business/representatives in Asia (India
and
Iran) and do not perform accredited assessments there.



Copyright 2013 A.g:R Certification | All Rights Reserved